January 5, 2023
Announcing our Holiday Wishes 50/50 Lottery Winner
On January 5 at noon, ticket number A-1859839 was drawn as the GRAND PRIZE WINNER in St. Joseph's Healthcare Foundation's Holiday Wishes 50/50 Lottery. Congratulations to Kathy G. of Stoney Creek who is starting the new year with a cool $39,810!
"I feel incredibly grateful," said an ecstatic Kathy, who has worked at St. Joe's for 22 years. Presently, she's a patient care unit clerk in the Dialysis Centre at the King Campus.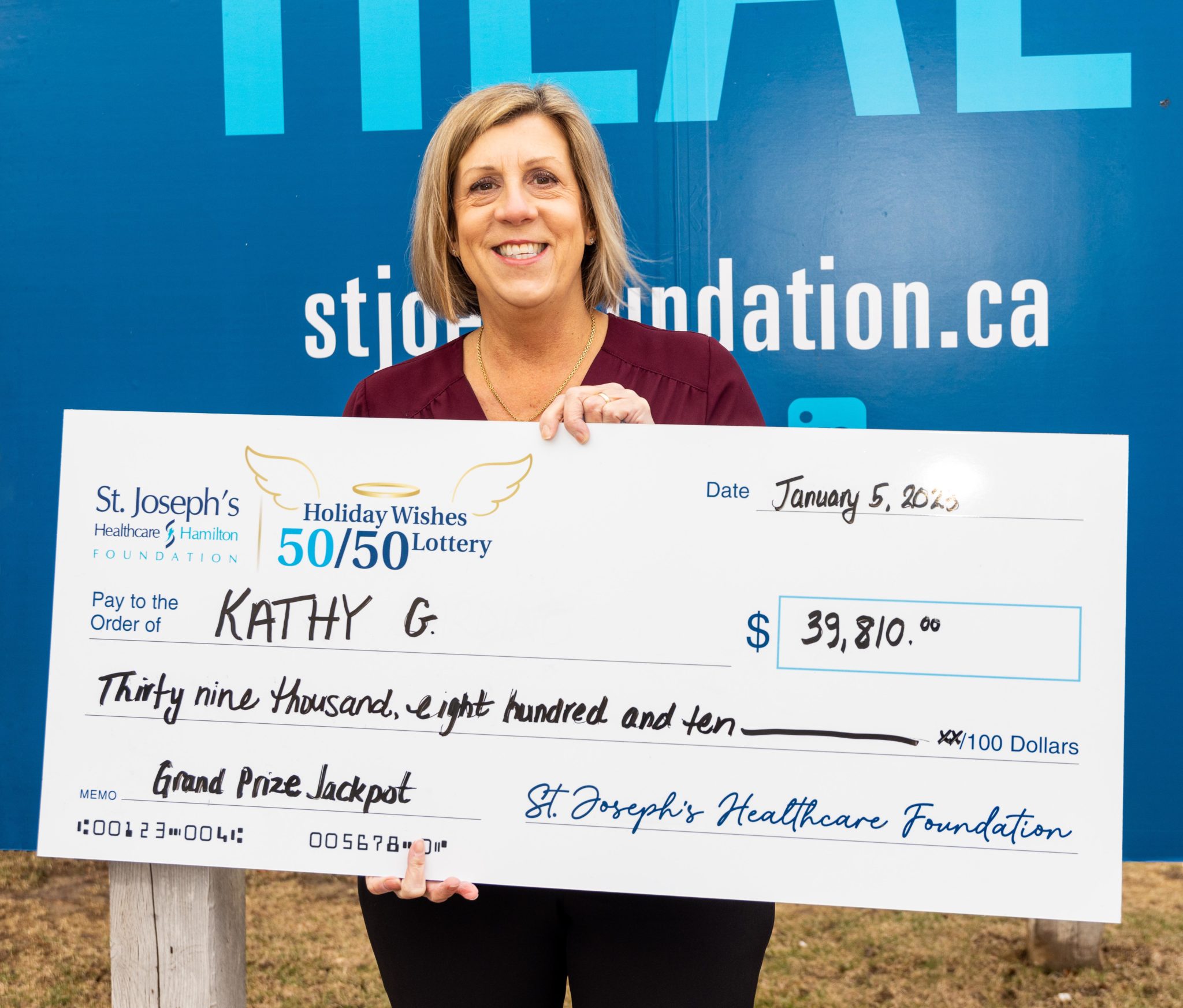 "The lottery is a great initiative that I hope the Foundation continues in future years so we can raise funds to support the patients we serve. My sister is a breast cancer survivor, too, so knowing that proceeds will support breast diagnostic equipment right here at St. Joe's this year was really meaningful to me."
The lottery is helping St. Joseph's Healthcare Foundation to raise funds to help the Hospital to acquire the latest in breast cancer screening and surgical technology. This includes items like a Digital Breast Tomosynthesis machine that provides 3-D mammograms and a breast biopsy coil to support MRI screening for patients at a higher-risk of aggressive cancers.
Warm congratulations also goes out to our four early bird prize winners, who each took home $500 cash in the lead up to the final grand prize draw on Thursday, January 4.
December 6 Early Bird Winner: Tracy T.
December 13 Early Bird Winner: Kath R.
December 20 Early Bird Winner: Daiha T.
December 30 Early Bird Winner: Nada M.
We are so grateful to everyone who chose to take part in our Holiday Wishes 50/50 Lottery to ensure a healthier future for our community. From all of us at St. Joe's Foundation, we wish you a happy, healthy new year! Stay tuned for more chances to win when our Hope Springs 50/50 Lottery returns in late February 2023.
The Holiday Wishes 50/50 Lottery is operated by St. Joseph's Healthcare Foundation under licence #RAF1281098 issued by the Alcohol and Gaming Commission of Ontario. The winning ticket for our grand prize jackpot (A-1859839) was drawn using an automated, randomized number generation system provided and operated by Ascend Fundraising Solutions and included all verified online ticket purchases made before midnight on January 4, 2022.
Tickets on Sale Now for our Holiday Wishes 50/50 Lottery! Get in the holiday spirit with our biggest lottery of the year! Not only are there more chances to win than…
more