March 15, 2022
CARSTAR & Bulldogs Foundation 'Showcase' Support for St. Joe's
On Monday, March 14, 2022 Tim Hortons Field, home of The Hamilton Tiger-Cats, was transformed into an ice rink to host the OHL Outdoor Showcase. At 7:00 p.m. the puck dropped before a crowd of 12,000 fans as the Hamilton Bulldogs hosted the Oshawa Generals. In three periods, the Bulldogs bested the Generals in a score of 3 – 0, but they weren't the only winners that evening.
The Hamilton Bulldogs Foundation partnered with key sponsors of the Outdoor Showcase, inviting them to nominate a local charity to receive a $25,000 donation. One of the event's key sponsors is CARSTAR, a long-time supporter of St. Joe's. CARSTAR and Driven Brands executives, Michael Macaluso and Adriano Mercanti requested that, in honour of their sponsorship of the event, a $25,000 donation be made to support the mental health and addictions program at St. Joseph's Healthcare Hamilton.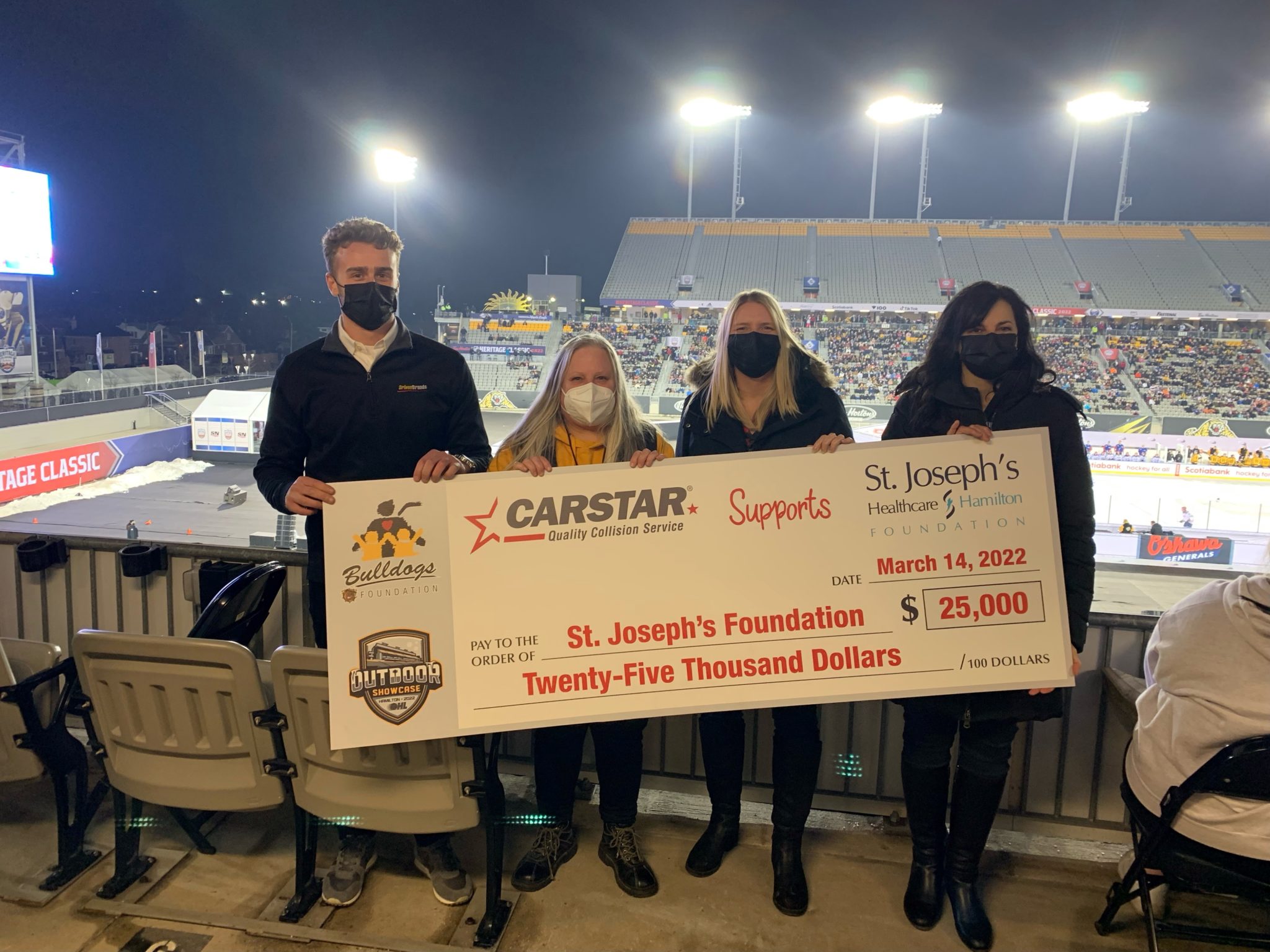 Both our Hospital and our Foundation are so grateful for this generous gift made by the Bulldogs Foundation and inspired by CARSTAR. Pictured at a cheque presentation during the second period of the game are: Adriano Mercanti, Operations Director, Driven Brands; Peggy Chapman, Executive Director, Hamilton Bulldogs Foundation; Melissa Farrell, President, St. Joseph's Healthcare Hamilton; and Sera Filice-Armenio, President and CEO, St. Joseph's Healthcare Foundation.
"The Outdoor Showcase is a celebration of hockey and of Hamilton—and we're honoured to be a part of it," says Melissa Farrell, President, St. Joseph's Healthcare Hamilton. "All of us at St. Joe's are so grateful to CARSTAR for nominating St. Joe's to be the beneficiary of this $25,000 donation from the Hamilton Bulldogs' Foundation. The donation will support mental health and addictions care at our Hospital—a cause that's never been more important as we emerge on the other side of the COVID-19 pandemic and seek help for the feelings of fear, anxiety, depression and PTSD COVID-19 has left in its wake. Together, CARSTAR and the Hamilton Bulldogs' Foundation are helping St. Joe's continue its long legacy of caring for our community."
Tickets on Sale Now for our Holiday Wishes 50/50 Lottery! Get in the holiday spirit with our biggest lottery of the year! Not only are there more chances to win than…
more