October 28, 2022
Family's Donation Brings Comfort to Others who Experience Pregnancy Loss
Julie Hogeterp is a registered nurse at the Dunnville Hospital near her home. Smart and capable, Julie has held senior roles, including serving as Interim Director of the Emergency and Operating Rooms during the COVID-19 pandemic. But even with all of her experience, Julie was not prepared for the shock of losing her baby at 33 ½ weeks gestation in 2018.
"It was so very difficult. It made me doubt my instincts as a nurse and as a mom. I felt like I should have known something was wrong. And I guess in some ways, I did," Julie says. "I remember doing a doppler on myself that day at work, and having trouble finding my baby's heartbeat. I asked another nurse for help, but we still couldn't find a heartbeat. By this time, my anxiety was skyrocketing, so I asked a doctor to perform an ultrasound on me, as it's a much easier way to spot fetal cardiac activity. When she confirmed that she was unable to see any movement or heartbeat, I immediately called my doctor."
Julie's obstetrician, Dr. David Small, advised her to come straight to St. Joe's – the Hospital where he practices, and where Julie had delivered her first child, Lily, in 2017. Dr. Small and his team soon confirmed Julie's worst fears. The daughter she and her husband Chuck had been anticipating had passed away while in the womb.
The flurry of decisions that followed was overwhelming, but Julie and Chuck were grateful for their medical care team who walked them through the delivery options that would take place the following day. They're also grateful for the remarkable care they received from St. Joe's social worker Rebecca Wasser.
"Rebecca provided grief counselling and support and suggested ways in which we could spend some time with our baby before saying goodbye. She showed us how we could commemorate her little life with a photo session…and brought us the most beautiful angel gowns for Sophia to wear," says Julie. "She guided Chuck through arrangements with the funeral home, and offered us spiritual care support, though we were grateful to be able to bring in our own minister. She took us to a room in the Hospital, away from the main delivery ward, where we could invite our families to meet our new baby whose life, while cut short, was still so precious. All of these acts may seem like small things, but put together, they made an unbearably sad situation so much easier."
In fact, when it was time for Chuck and Julie to leave the Hospital without their new baby, Rebecca offered they could leave Sophia in her arms, so they could spare themselves from having to place their baby in a cot to be wheeled away. "I wanted to be able to take the pain of that moment away for them, and I knew I wasn't completely able to do that. But I could make it better. At that moment, I acted on instinct and did what I felt was needed. I sat and cuddled Sophia so she would know she was safe and not alone. It was a privilege to get to be a part of her little life," says Rebecca.
When Julie became pregnant again in 2020, she knew it would be difficult to return to St. Joe's for her pregnancy care, but she felt supported every step of the way. Julie received frequent appointments at Dr. Small's office, and accessed the Labour and Delivery Triage when she needed someone to check on her baby for peace of mind.
Following the happy, healthy delivery of their third child, Emma, in 2021, the couple wanted to recognize the care teams at St. Joe's and add an extra layer of comfort to other families experiencing similar losses. That's when they donated more than $8,000 to help St. Joe's purchase an adjustable bed for the family care suite they had stayed in with Sophia.
The adjustable bed allows patients who deliver their lost baby by caesarian section to stay in the suite for the privacy and comfort it offers rather than returning to the main ward for post-caesarian care – where they can hear the cries of other babies.
"As a nurse, I fully understood why this had to be the case. But as a mom experiencing the loss of a baby, I knew there must be a better way. And we feel very fortunate that we had the means and the inspiration to make a gift that could help other parents going through this," Julie adds.
Today, a plaque on the footboard of the new bed in the family care suite is dedicated to the compassionate staff in the Birthing Unit at St. Joe's in loving memory of Sophia Jenneka Hogeterp, born sleeping on December 9, 2018.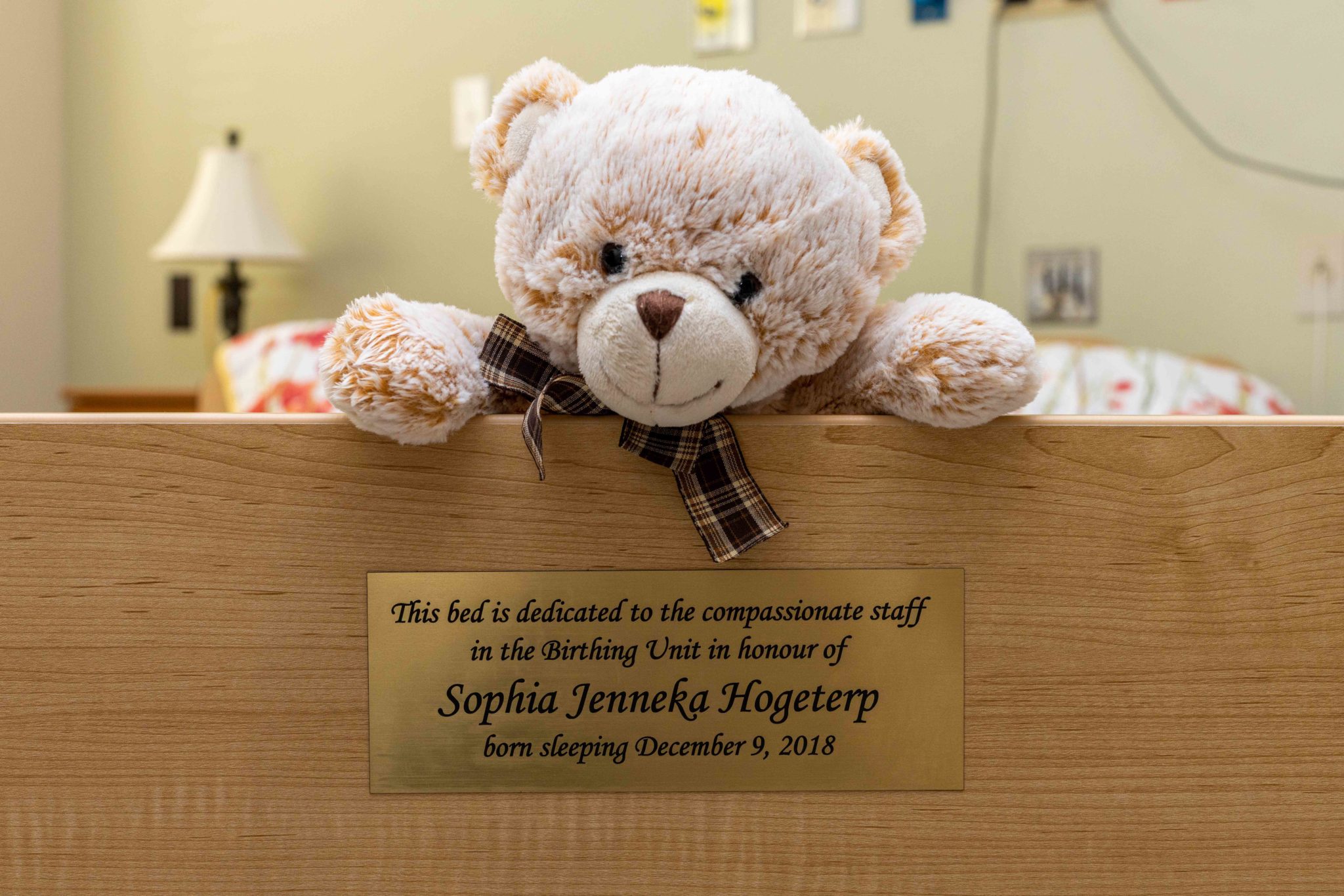 This story was originally published in our 2021-22 Donor Impact Report. Click here to read the full report and discover other inspiring stories from our supporters.
Tickets on Sale Now for our Holiday Wishes 50/50 Lottery! Get in the holiday spirit with our biggest lottery of the year! Not only are there more chances to win than…
more