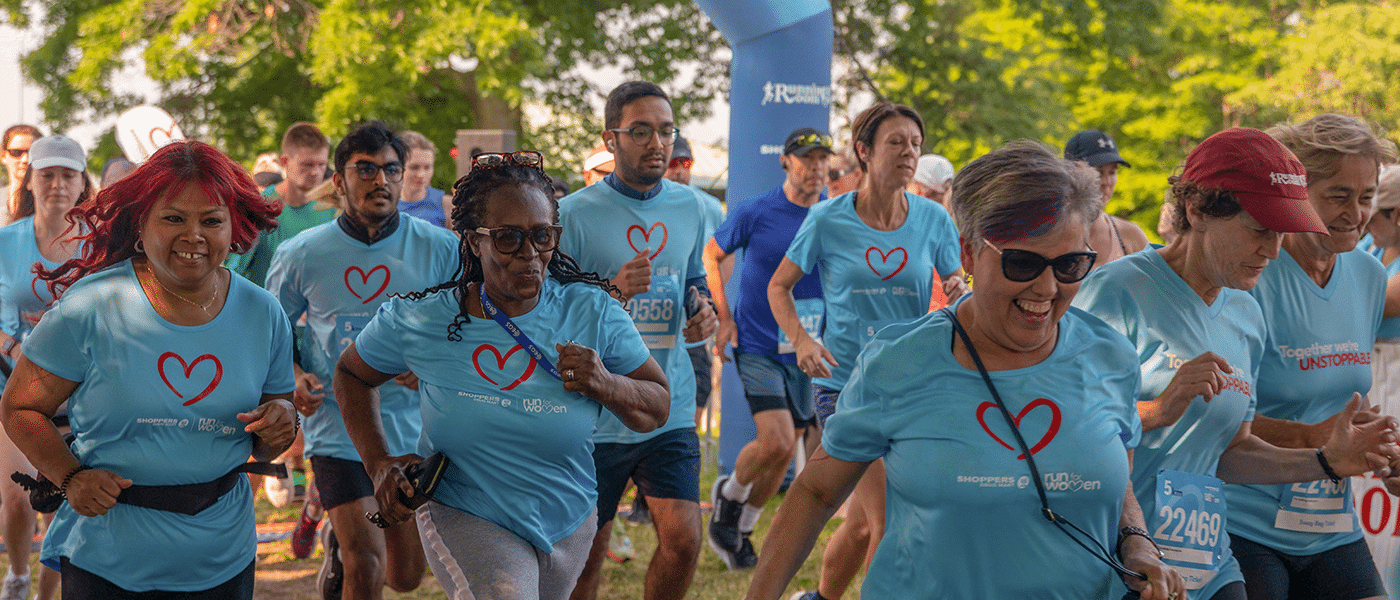 This past year, more than 1,150 people came out to walk, run, and raise funds to support women's mental health and addiction care at St. Joseph's Healthcare Hamilton. As well as a record number of participants, the event also raised an all-time high of $151,000. These funds will help to expand our mental health services and research at the Hospital to better meet the growing demand for care in our region.
Our 2023 Community Champion, Anneliese Lawton, took part in the run with her three children and her husband, too! Throughout the lead-up to the event, Annie has been sharing her experience with postpartum depression and how the care she received from St. Joe's helped her to regain her sense of well-being and get back to being the mom she'd always wanted to be. We're so grateful for all the ways Annie helped to let women in our community know they're not alone and that support is available right here in Hamilton – at St. Joe's.
5K Walk/Run, 10K Run,
1K Little Steps
A special shout out to our friends at Shoppers Drug Mart. We're so grateful to all of the store owners, pharmacists, associates and employees who came out to be a part of the Run for Women. From beauty mingles to movie nights, golf tourneys to point-of-sale donations, the Shoppers Drug Mart team rallied together to raise funds for our Hospital.
Since first becoming the grateful beneficiary of the Run for Women in 2018, more than $600,000 has been raised through this event.
We look forward to seeing everyone next year on June 15, 2024!
What You've Accomplished So Far
$K
raised in 2023 to support women's mental health and addictions programs at St. Joe's
$K+
raised over the last six years at Hamilton's regional Run for Women
women impacted by funds raised each year
Thank you for your support!
Funds raised through the Shoppers Drug Mart® Run for Women will help support compassionate, stigma-free care for women of all ages in our community through our Women's Health Concerns Clinic, Seniors Mental Health Program, Womankind Addiction Service, and Youth Wellness Centre.