March 16, 2022
We've Hatched a Winner for our Final Early Bird Draw!
On March 15 at noon, we drew the winning ticket for our final early bird prize of $1,000 CASH! Martha Potter of Hamilton is the lucky holder of the winning ticket: A-9914306. Martha is the Charge Nurse in Clinical Teaching Unit West at St. Joe's. When asked what she might do with her $1,000 cash prize, Martha said she plans to treat herself to a new camera as she dabbles in photography in her spare time. Martha also decided to donate $100 of her winnings back to St. Joe's to support her department. Congratulations Martha!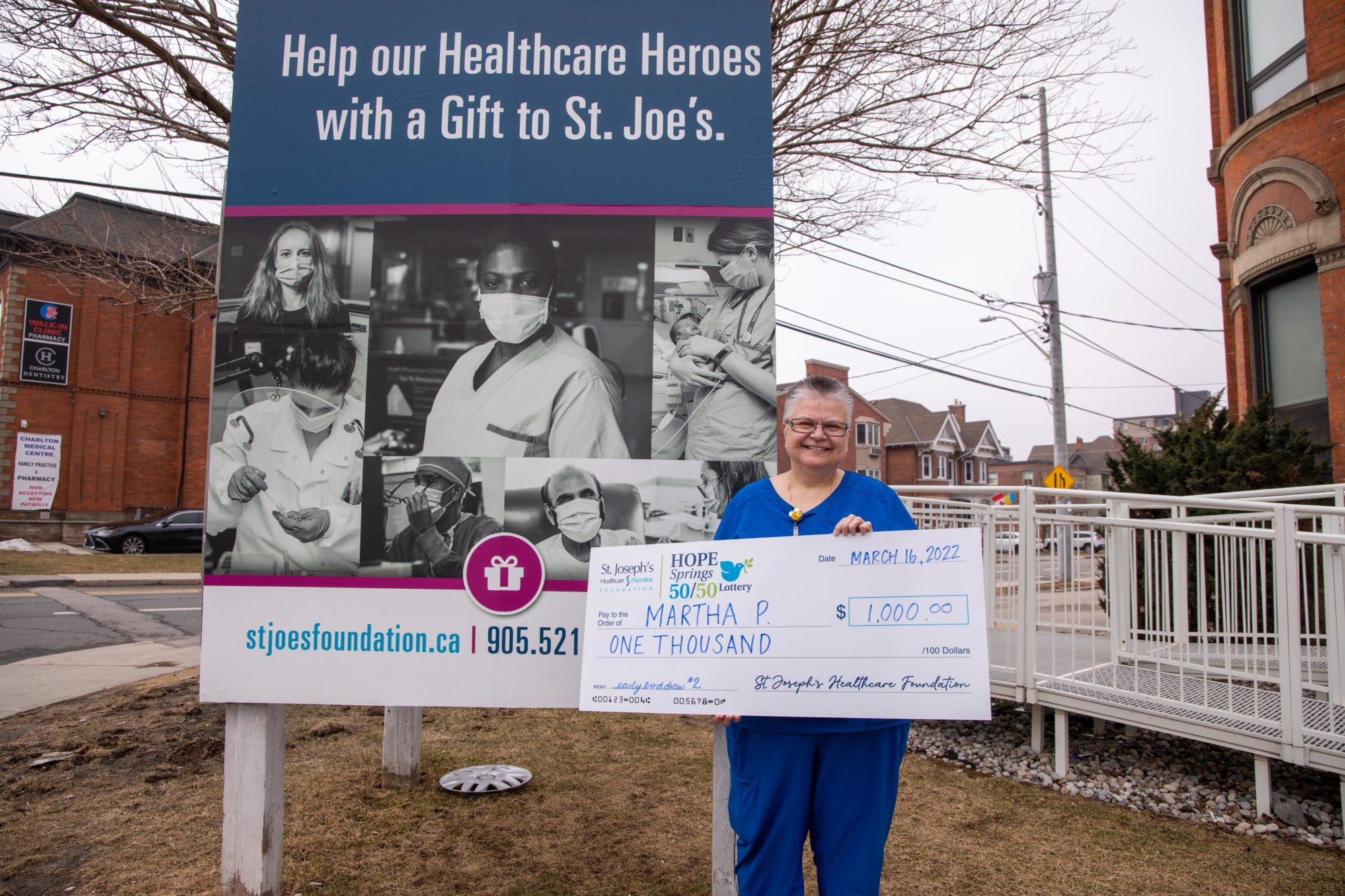 If you didn't take home an early bird prize, don't fret, you're not out of chance to win just yet!
There's still ONE MORE CHANCE TO WIN BIG while supporting our Hospital. Our Hope Springs jackpot has sprouted to more than $26,000 and will keep growing until Monday, March 21 at midnight. There's LESS THAN ONE WEEK LEFT to purchase tickets for the grand prize draw. So, get cracking, purchase your tickets today at www.stjoeslottery.ca and start your spring with a little CHA-CHING!
Already have your tickets? With spring right around the corner, you may just want to squirrel away a few extra tickets to boost your chances of winning! Every ticket you purchase helps our Hospital fund much-needed medical equipment, vital research and upgrades to patient care areas. Thank you for playing and good luck!
The Hope Springs 50/50 Lottery is operated by St. Joseph's Healthcare Foundation under licence #RAF1234516 issued by the Alcohol and Gaming Commission of Ontario. The winning ticket for Early Bird Prize #2 (A-9914306) was drawn using an automated, randomized number generation system including all verified online ticket purchases made before midnight on March 14, 2022.
Tickets on Sale Now for our Holiday Wishes 50/50 Lottery! Get in the holiday spirit with our biggest lottery of the year! Not only are there more chances to win than…
more