March 24, 2022
Cue the spring (confetti) showers, we have a winner!
On March 22 at noon, ticket number A-7139325 was drawn as the GRAND PRIZE WINNER in St. Joe's Hope Springs 50/50 Lottery. Ernest Y. of Ancaster, Ont., is the lucky bunny who will be taking home a remarkable $35,190!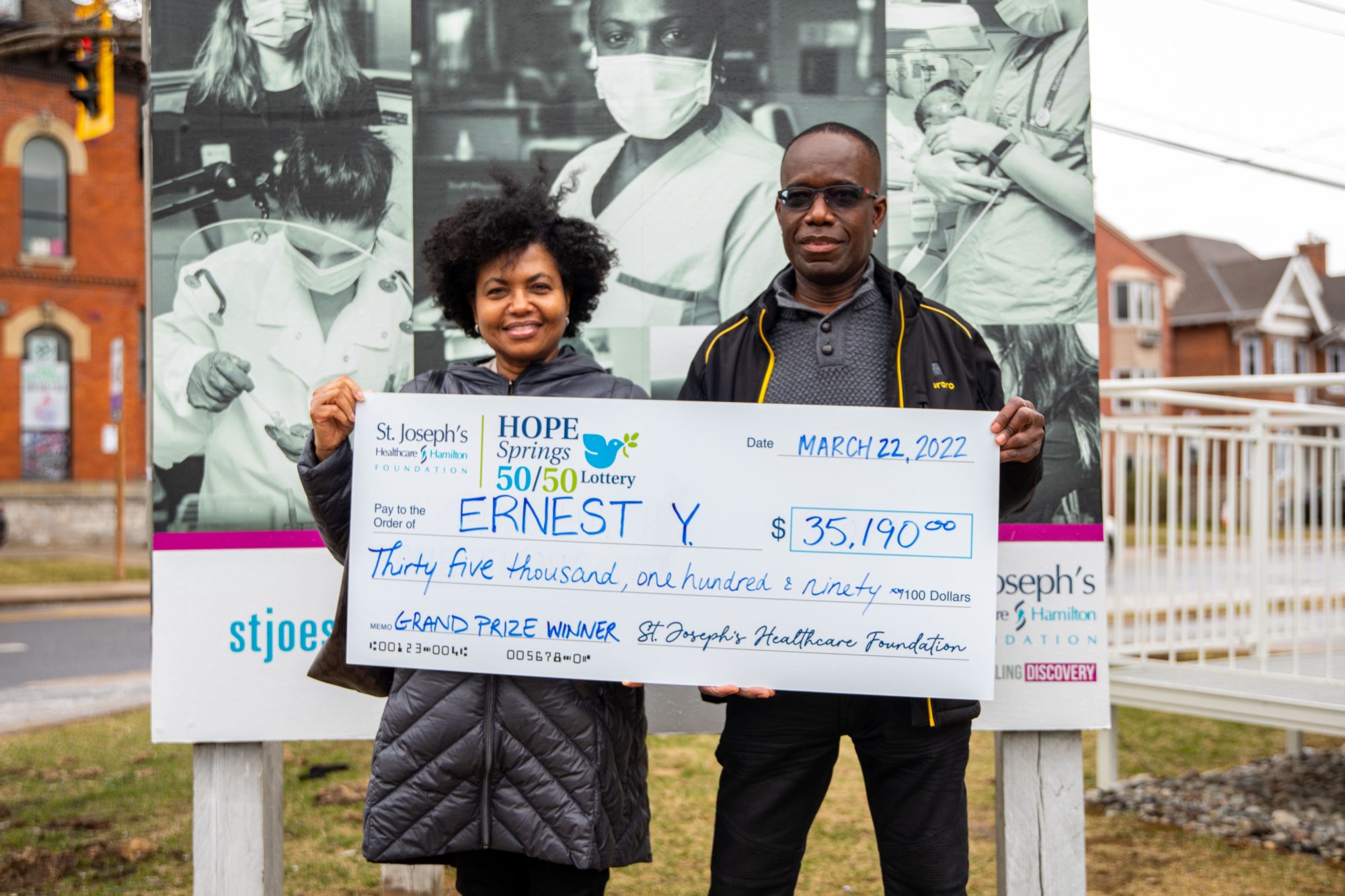 After receiving a kidney transplant at St. Joe's in 2019, Ernest says he already felt like he "won the lottery" when his longtime friend David – a dialysis technician at our Hospital – offered to be his organ donor.
"St. Joe's has been really good to me and supporting my health," he says, adding he regularly purchases tickets to St. Joe's 50/50 lottery to give back to the Hospital.
As for what he might do with his jackpot prize, Ernest remains undecided. "It still hasn't sunk in that I won," he adds.
Not only is Ernest a winner, but our community is too. The remaining proceeds ($35,190) will be used to fund upgrades to patient care facilities, vital research and much-needed medical equipment at our Hospital in the heart of Hamilton. We are so grateful to everyone who chose to take part in our Hope Springs 50/50 lottery to ensure a healthier future for our community. Wishing you a very hoppy spring from all of us at St. Joe's Foundation!
The Hope Springs 50/50 Lottery was operated by St. Joseph's Healthcare Foundation under licence #RAF1234516 issued by the Alcohol and Gaming Commission of Ontario. The winning ticket for our grand prize jackpot (A-7139325) was drawn using an automated, randomized number generation system including all verified online ticket purchases made before midnight on March 21, 2022.
Tickets on Sale Now for our Holiday Wishes 50/50 Lottery! Get in the holiday spirit with our biggest lottery of the year! Not only are there more chances to win than…
more