Join the Comfort & Kindness Club
Every summer, we invite St. Joe's staff – on behalf of the patients they serve in their department or unit – to submit applications for a grant from the Foundation's Patient Comfort & Kindness Fund.
This fund is dedicated to helping departments to cover the costs of the "little things" that may not be eligible for funding from the province but are a critical tool in helping improve our patient's hospital experience and supporting the healing process.
However, as the demand for these comfort items continues to grow, along with the increasing demands placed on our healthcare system, we need your help!
By joining the Comfort & Kindness Club, your monthly contribution will provide us with consistent, reliable funding for the "little things" that mean so much to our patients.
As our way of saying thanks, we'll send you a special pin to wear proudly to let everyone know that you're one of St. Joe's everyday angels.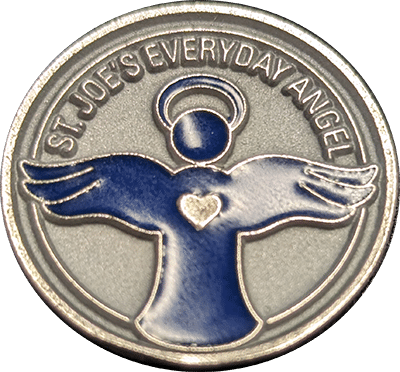 Custom Colouring Books Granted to Intensive Care Unit
The opportunity for patients to colour helps take their minds off their illness and relieves any worries they may have in that moment. It gives them happiness and joy, and something to pass the time while in Hospital. These books are a beautiful and meaningful resource for them to feel empowered at a time when they may feel helpless, and a treasured gift from the community for the community. We are so grateful that, through our partnership with the Foundation, we were able to bring these colouring books to life.
VR Headsets Granted to Complex Care
The use of technology has been invaluable in improving the mental wellbeing of our patients. It has done so much to foster feelings of relaxation and purpose. The VR headsets have allowed patients to travel virtually anywhere in the world, right from their bedside. Whether it's walking the streets of Italy or going on a safari in Africa, the opportunities are simply endless. Thank you for providing us with the funding needed to create such a memorable experience for our patients. It means so very much.